ABOUT
THE FABRIC
When you wear Primeflex™, you will experience uncompromised comfort of the highest order. Whether you're battling the elements across mountain summits or trekking through Alpine valleys, Primeflex™ provides the versatility, comfort and function that the conditions demand.
All this while remaining so comfortable you'll forget you're wearing it.
Fusing function with fashion requires a meticulous and highly detailed approach to design.
Our team of experts at Toray spent years refining the construction to produce a luxurious
and highly adaptable fabric suitable for all types of activity.
Discover Comfort Uncompromised
Comfort
Primeflex™ is highly stretchable and soft, making it comfortable to wear whatever the end use. 
The material follows body movement in a range of applications, whether it's athletic endeavours, casual loungewear or in the office, and comfort is of the utmost importance.
You can be assured Primeflex™ will provide a soft handfeel and a luxury experience in whatever you do. From intense spin classes and high-pressure business meetings to simply spending time at home with friends, the fabric ensures you remain comfortable and undistracted.
Flexibility/Stretch
Primeflex™ fabric is constructed using a bi-component cross-sectional structure that provides high levels of stretchability. This means it's ideal for a wide array of uses as it provides a free range of movement to ensure there are no restrictions to your chosen activity. Whether you are trying to improve your swing on the golf course, doing squats in the gym or running hard on the track, Primeflex™ features the flexibility required to elevate your performance to the next level.
Customisation
Flexible fabric is increasing in demand from consumers, from those looking for the most comfortable and adaptable activewear to those seeking on-trend fashion. Primeflex™ is fully customisable to users' needs, and Toray can tailor fabrics and yarns to suit each type of consumer, whether they are looking for high-end soft and durable yoga leggings or a suit featuring stretchability to cycle to work in.
Primeflex™ material can be customised for specific consumers' requirements, from those looking for sportswear and activewear to those seeking fashion or business clothing. By combining expertise with other brands, Primeflex™ can be used in clothing designed for use by those in everything from yoga studios and boardrooms to forests and nightclubs. With Primeflex™ you can customise without compromise.
Evolution
Fashion evolves, user requirements alter over time, activities and sports change with the seasons. We acknowledge this and recognise the importance of monitoring and evolving with current needs and trends. We were the first manufacturer to begin producing nylon and Toray remains the only producer of nylon in Japan, so we understand the importance of forging new paths and staying at the forefront of fabric innovation. We are constantly updating our design process to stay ahead of trends to create apparel that is on-trend, functional, resilient and comfortable, and Primeflex™ embodies all of these properties.
Sustainable Steps
Toray is constantly exploring ways to be more environmentally conscious with its choice of materials and chemical processes in an effort to reduce our carbon footprint and our impact on the planet.
We used polymer quality control and advanced spinning technology to create a new Primeflex™ stretch fabric that is even more environmentally responsible.
Primeflex™ currently comprises 18% plant-based material for polyester, and 30% for nylon. We are continuously evolving and looking for new and innovative ways to source and create material. We are launching a new recycled fabric made from 68% environmentally friendly materials, and our ultimate aim is to create a truly sustainable material with the same level of comfort in the future.
How do we substantiate?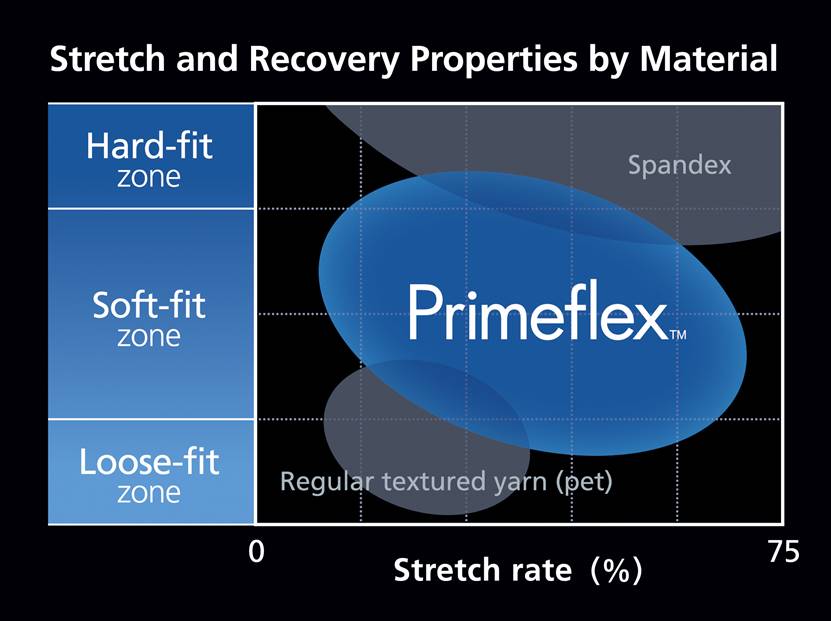 Sustainability
Nylon – N6/N610 – 30% bio-based
Polyester – 3GT / PET – 18% bio-based
Recycled Polyester – 50% recycled, 18% bio-based
Practical Benefits
• Stretch    • Easy care    • Soft and supple handfeel   • Lightweight   • Quiet material
If used in combination with other fabrics in the Toray family, such as the waterproof and breathable Dermizax™ material, the result is an all-weather stretch fabric suitable for an even more diverse range of applications, in particular action sports or professions that demand extreme protection from the elements while providing comfort and flexibility of movement.